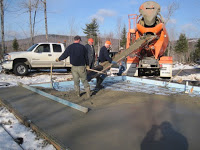 We are Maine home builders currently building a guest house on a rural site while architectural plans are being completed for the future primary residence. Our challenge and our goal are to utilize energy-efficient materials and construction methods that best balance performance and budget. This "Winkumpaugh Cottage" will employ many of the same energy-efficient construction practices as the main residence.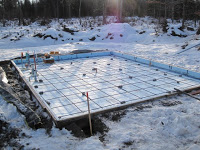 The foundation selected for the cottage is an insulated slab on grade. 
After excavation of the site and construction of a screened gra
vel pad, we prepared a form for the 20'x24′ concrete slab, roughed in plumbing utilities, and installed 2″ rigid Styrofoam insulation and steel rebar reinforcement
. A
ll Styrofoam seams were sealed to establish a continuous barrier to moisture and soil gasses. Read more at gregfitzpatrickgc.com.